Creating A Social Media Strategy As An Artisan Or Designer
How to create an online presence as an artisan? I have a 'thing' for ICT, and actually spent 6 months in Uganda just working with micro entrepreneurs on improving their ICT skills. Today most of my design class is actually delivered online, and my students have to create at least three 'online presences' for themselves by the end of the three-year programme. In this seminar I will be sharing some of our experiences and helping artisans to create their own social media strategy.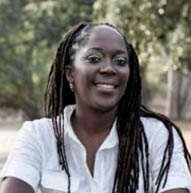 Lesley-Ann Noel is a product designer and has been a lecturer in Design at the University of the West Indies, Trinidad since 1999. She has done extensive work in product design, export product development and entrepreneurship training for development agencies working with rural and semi-rural entrepreneurs and manufacturers in Africa, South America and the Caribbean. Ms. Noel runs Manzanare Design Solutions Ltd, a design consultancy, and is the founder of Chic Shak Lifestyle, a craft retail boutique.
–       She has exhibited work at design exhibitions and design trade shows in the United States, Trinidad & Tobago, Jamaica, Brazil, Germany and France.
Day: Friday 2 September
Time: Business Boot-camp: 9:00am – 9:30am
Room: