Brand Caribbean': The Enormous Potential Of The Caribbean Brand In The Global Marketplace
This seminar will focus on the inherent desirability of the word 'Caribbean' and why that desirability coupled with the incredible quality of raw 'product' from food to hospitality makes the Caribbean an untapped mega brand for the local entrepreneur. It is time for the Caribbean people to recognise the potential all around them in the beaches, fruit, ecosystems and crafts that can be converted into a powerful global brand. As the world shifts towards spiritual satisfaction and value for money luxury as well as sustainability the Caribbean is poised to redefine an approach to luxury.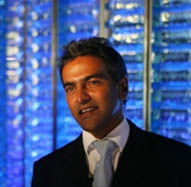 Kiran Akal is an accomplished creative thinker and has been employed as a "Blue Sky" consultant or idea generator by companies including The Walt Disney Company, The Bacardi Group, Lexington Films and Warner Music and the Bacardi Group USA. The unusual breadth of his creative projects has led to his being a keynote speaker on creativity and creative thinking at such events as The Commonwealth Heads of Government in 2009 and Art Miami in 2010. Prior to that he was selected from among the top ten designers in 2006 to speak at the famous Pecha Kucha worldwide talks and in 2008 at Art Asia.
Day: Saturday 3 September
Time: Business Boot-camp: 8:30am – 9:00am
Room: