Design Caribbean goes to Calabash 2014
The Caribbean Export Development Agency (Caribbean Export) is pleased to announce its synergistic partnership with the Calabash Literary Festival in the form of a creative pavilion under Caribbean Export's flagship brand, Design Caribbean. The stand, which will showcase the work of some of the region's finest craftsmen, will be a key standing feature of the Calabash International Literary Festival which is scheduled to take place at the picturesque Jake's Hotel, Villas and Spa  in Treasure Beach, St. Elizabeth, Jamaica from May 30- June 1, 2014.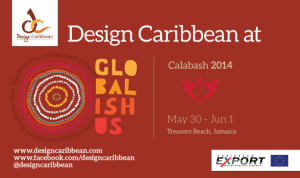 The Calabash International Literary Festival represents the ideal platform for the agency's most recent creative initiative. Since its genesis in 2001, the festival has become the foremost international literary festival in the English-speaking Caribbean as well as a catalyst for cultural activity in Jamaica and the wider region. The three-day literary feast not only features critically-acclaimed writers from the Caribbean and around the world (past attendees have included giants such as Nobel Laureate Derek Walcott and Wole Soyinka), but also noted songwriters and musicians who take to the stage during enthralling open-air concerts. In addition, the festival has faithfully provided the opportunity for carefully selected artisans to offer their products on a highly visible platform to its exponentially increasing audience. This selection of high quality and unique fare has become synonymous with the ingenuity which the festival inspires.
Caribbean Export will support the participation of 10 artisans from eight (8) countries from across the region to be part of the Design Caribbean stand.  These artisans will represent some of the highest standards in quality and innovativeness that the region has to offer in jewellery, spa & wellness products, home accessories and lifestyle products. The Design Caribbean umbrella seeks to provide a home for the mélange of genres. This variety will not only give a sense of the wealth of talent and prolificacy which the region has to offer but the potential for a regional brand which encompasses and promotes all of these elements.
Caribbean Export recognized the potential value of this established platform of the arts for CARIFORUM artisans that are seeking to enter new markets.  Calabash provides an opportunity for regional artisans to network with attendees from across the globe in order to generate interest in their products as well as the potential for collaboration with other creative professionals. Regional artisans are constantly seeking new avenues and opportunities for market entry and penetration and the Agency envisions that Calabash will provide an outlet for the achievement of this goal.